Introduction:
If you're concerned about the quality of the air in your home or business, air duct cleaning can make a significant difference. By removing dust, debris, and other contaminants from your HVAC system, you can improve indoor air quality and potentially reduce health risks. However, not all air duct cleaning services are created equal. To ensure that you get the results you need, it's essential to choose a reliable and trustworthy provider. In this post, we'll discuss some of the key factors to consider when selecting an air duct cleaning service, and show you how Green Air Duct Cleaning Austin can help.
Headings:
Experience and Expertise
Green Cleaning Practices
Comprehensive Services
Advanced Tools and Techniques
Customer Reviews and Testimonials
Competitive Pricing and Guarantees
Frequently Asked Questions
Conclusion
Experience and Expertise: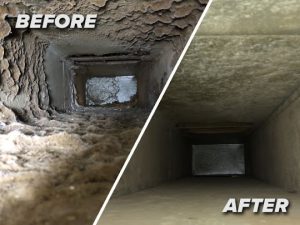 When you're investing in air duct cleaning, you want to be sure that the service provider you choose has the skills and expertise to do the job right. At Green Air Duct Cleaning Austin, our team has over a decade of experience in the industry, and we're committed to staying up-to-date with the latest advances in the field. Our technicians are trained and certified in air duct cleaning and related services, and we're proud to be a leading provider in th
Affordable and Convenient: Our air duct cleaning services are affordable and convenient, and we offer flexible scheduling to meet your needs.
e Austin area.
Green Cleaning Practices:
At Green Air Duct Cleaning Austin, we believe in protecting both our customers and the environment. That's why we use eco-friendly cleaning solutions and practices whenever possible. Our cleaning products are non-toxic, biodegradable, and safe for people and pets. Additionally, we employ techniques such as negative air pressure and HEPA vacuuming to ensure that your indoor air quality is not compromised during the cleaning pr
ocess.
Comprehensive Services:
In addition to air duct cleaning, Green Air Duct Cleaning Austin offers a range of related services to meet your needs. We can clean and maintain your dryer vents, sanitize and deodorize your air ducts, and perform HVAC system inspections to identify potenti
al issues. Whether you need a one-time cleaning or ongoing maintenance, we have the expertise to get the job done right.
Advanced Tools and Techniques:
To ensure that our customers get the best possible results, we use state-of-the-art tools and techniques in our cleaning process. Our equipment includes high-powered vacuums, rotary brushes, and compressed air systems, all of which are designed to remove even the toughest buildup from your air ducts. We also use digital cameras to inspect the inside of your ducts before and after cleaning, so you can see the difference for yourself.
Customer Reviews and Testimonials:
At Green Air Duct Cleaning Austin, we're proud of the positive feedback we've received from our customers over the years. We encourage you to check out our online reviews and testimonials to see what others have to say about our services. We believe that our commitment to quality, integrity, and customer satisfaction sets us apart from other providers in the area.
Competitive Pricing and Guarantees:
We understand that cost is an important factor when choosing an air duct cleaning service. That's why we offer competitive pricing and transparent quotes for all of our services. We also stand behind our work with a satisfaction guarantee, so you can have confidence in the results you'll get
Why choose Green Air Duct Cleaning Austin:
Experienced and Professional Technicians: Our technicians are highly trained and experienced in the latest air duct cleaning techniques and use state-of-the-art equipment to ensure that your air ducts are thoroughly cleaned.
Comprehensive Cleaning Process: Our cleaning process is comprehensive, covering all areas of your air duct system, including the vents, grilles, and ductwork, to ensure that all contaminants are removed.